Introduction
Many Asian economies are starting to show signs of recovery from the recession, induced by the COVID-19 pandemic. The newly elected US president's policies -Mr. Joe Biden- will play an essential role in influencing the recovery's momentum. Further tensions? Trade wars? Confrontations against China? These potential outcomes can all be detrimental to ASEAN's recovery.
A bipartisan consensus is that China is a strategic competitor with increasing power that threatens US predominance. Consequently, we can expect certain trade war policies against China to continue. People expect Mr. Biden's to have a more prudent approach when dealing with China, with greater emphasis on negotiations and diplomacy. This article looks at how the election will affect US-China relations in terms of trade, human rights, and security issues. Most importantly, we also look at how this election will ultimately affect ASEAN economies.
Trade
The Regional Comprehensive Economic Partnership (RCEP) is viewed by many to be one of the more effective ways for China to counter the US's growing influence within the Asia-Pacific region. It garnered momentum when Trump withdrew from the Trans-Pacific Partnership (TPP). The RCEP -the world's largest free trade agreement- was signed this November. ASEAN and its partners, namely China, Japan, South Korea, Australia, and New Zealand, are all on it.
The Comprehensive and Progressive Trans-Pacific Partnership (CPTPP) is the renamed version of the TPP, this partnership could represent another effective free-trade agreement, which Mr. Biden may utilise to counter China's influence over the RCEP. However, rejoining the CPTPP would be an uphill battle for Mr. Biden in Congress. Democrats are generally more protectionist than republicans, Mr. Biden, therefore, has to ensure that his credibility is not undermined amidst the anti-trade progressives. Furthermore, with Mr. Biden expected to prioritise domestic issues such as the COVID-19 pandemic and securing employment for Americans, a trade deal is unlikely to emerge so soon.
Moreover, the RCEP requires relatively fewer political and economic concessions, along with a lesser emphasis on labor rights, environment, and intellectual property protections. Many ASEAN countries could find the RCEP more beneficial due to these lower restrictions. Consequently, this could make it more difficult for the US to renegotiate the CPTPP trade deal.
Nevertheless, if the US does decide to join the CPTTP deal, it would still benefit many member countries, especially when considering the US's market size. Additionally, many ASEAN countries are of geostrategic importance for the US to counteract China's influence in the region. Therefore, the US is likely to strengthen ties with and between key allies in the region. Hence, I believe US policies under Mr. Biden's administration should be more favorable for ASEAN due to the implicit support for free trade and a reduction in protectionism
Human Rights & Security
With China challenging the US's status as the most powerful country globally, coupled with Trump's 'unique' style of diplomacy and unpredictability damaging the US's credibility, Mr. Biden cannot appear to be 'soft' on China. We can therefore expect Mr. Biden to continue the negative and accusatory press against China on various issues, ranging from Hong Kong to China's treatment of religious and ethnic minorities.
Tension will inevitably persist under Mr. Biden as the US continues to oppose Chinese territorial claims, such as those on the South China Sea. The US navy will continue to maintain its freedom of navigation operations in the South China Sea and military exercises with the Quad alliance. Mr. Biden is also likely to make the mass incarceration of the Uyghur minority in China an issue. Other sources of frictions, such as issues surrounding market access and state support for Chinese firms, will also persist.
Mr. Biden's methods in dealing with China is likely to be less confrontational, especially when compared to Trump. Rather than antagonising China, Mr. Biden is likely to compete with China by forming a coalition with allies who support US objectives. We can expect to see the promotion of democracy to be a core principle of the US foreign policy, while China will simultaneously be depicted as an authoritarian superpower and a global threat. Mr. Biden will surely face the challenge of pushing for liberal policies in a region with governments that are not entirely democratic. If this occurs, countries with close ties with China, especially ASEAN countries, could be affected. The economy of these ASEAN countries could be negatively affected due to the damage caused to their relations with China.
From another perspective, ASEAN countries could benefit from this as well. Mr. Biden is expected to appoint officials familiar with Asean capitals to improve coordination efforts between the US and Southeast Asian countries. Unlike Trump, who skipped the ASEAN summit two years in a row, regional alliances such as ASEAN will become more of a priority for Mr. Biden. An increase in US presence will allow ASEAN countries to voice their concerns about being forced to take sides between the US and China. More importantly, the US's presence gives countries involved in disputes with China more negotiation power against China. Brunei, Malaysia, the Philippines, and Vietnam, who have territorial claims in the South China Sea, rely on China as a major trading partner and hence, fear economic retaliation. The presence of both the US and China ultimately means ASEAN countries will have more room to maneuver and the opportunity to benefit from both superpowers.
How have ASEAN member states responded to the election results?
Leaders of Southeast Asian countries have congratulated US President-elect Joe Biden on his winning the race for the White House. In their messages, the leaders expressed hope for stronger bilateral relations and stability in the region.
Trade
In a statement, Malaysian Prime Minister Muhyiddin Yassin expressed his hope to strengthen the country's partnership with the US under Biden's leadership:
"I extend my heartfelt congratulations to the Democratic presidential nominee, former Vice President Joe Biden on his historic victory in the 2020 US presidential elections," said Muhyiddin.
The premier said as a fast-growing developing country, Malaysia attaches great importance to its relations with the US, adding that US-Malaysia Comprehensive Partnership continues to be an overarching framework for pro-active, multifaceted, and mutually beneficial collaboration between the two countries.
Thailand's Prime Minister Prayut Chan-o-cha on Monday sent a letter of congratulations to Joe Biden and the Vice President-elect Kamala Harris.
"I wish to extend to you and Senator Kamala Harris my warm congratulations on your election victory and the trust that you have earned from American voters," he wrote.
Emphasizing the long-standing ties of friendship between the two countries, dating back more than 200 years, Prayut recalled that Thailand was the first treaty partner of the US in Asia. He said the country takes pride in a strategic partnership, which contributes to mutual benefit and the region's peace, stability, and prosperity.
Human Rights
Philippine President Rodrigo Duterte also joined other leaders in congratulating Biden and Harris.
"On behalf of the Filipino nation, President Rodrigo Roa Duterte wishes to extend his warm congratulations to former Vice President Joseph Biden on his election as the new President of the United States of America," said presidential spokesperson Harry Roque in a statement.
The statement noted that the Philippines and the US have long-standing bilateral relations and the Southeast Asian country is committed to further enhancing the relations with the states under Biden's administration.
"We look forward to working closely with the new administration of President-elect Biden anchored on mutual respect, mutual benefit, and shared commitment to democracy, freedom and the rule of law. Congratulations and we wish him all the best," it added.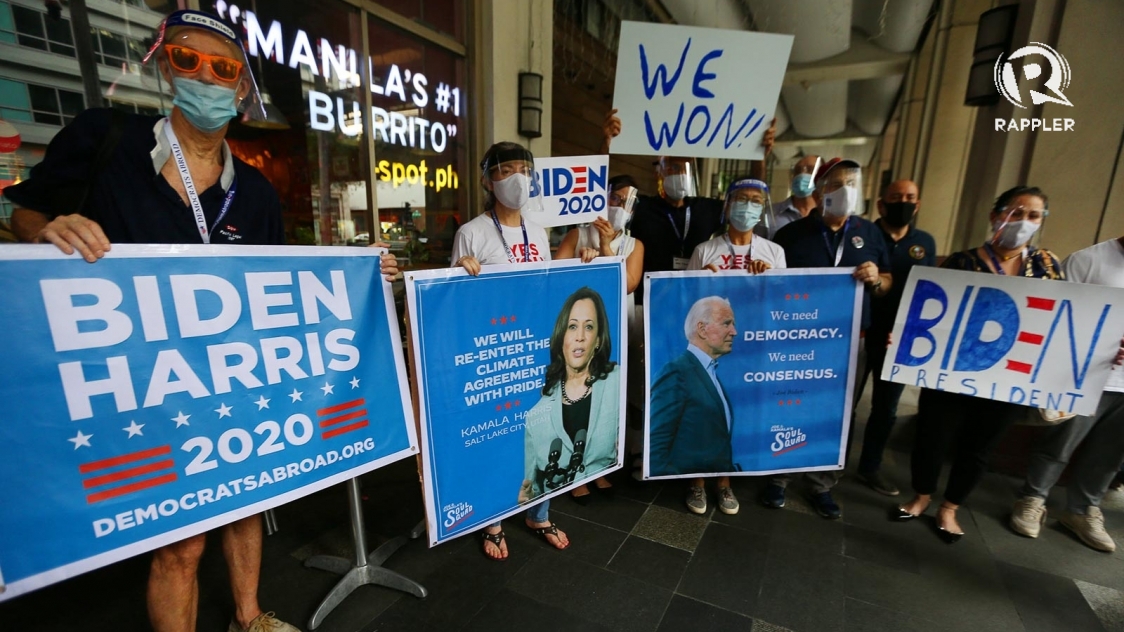 Indonesian President Joko Widodo said he looked forward to working with Biden in various fields.
"My warmest congratulations @JoeBiden and @KamalaHarris on your historic election. The huge turnout reflects the hope placed on democracy…Looking forward to working closely with you in strengthening Indonesia-US strategic partnership and pushing forward our cooperation on economy, democracy and multilateralism for the benefit of our two people and beyond," said Widodo, while posting on Twitter on Sunday.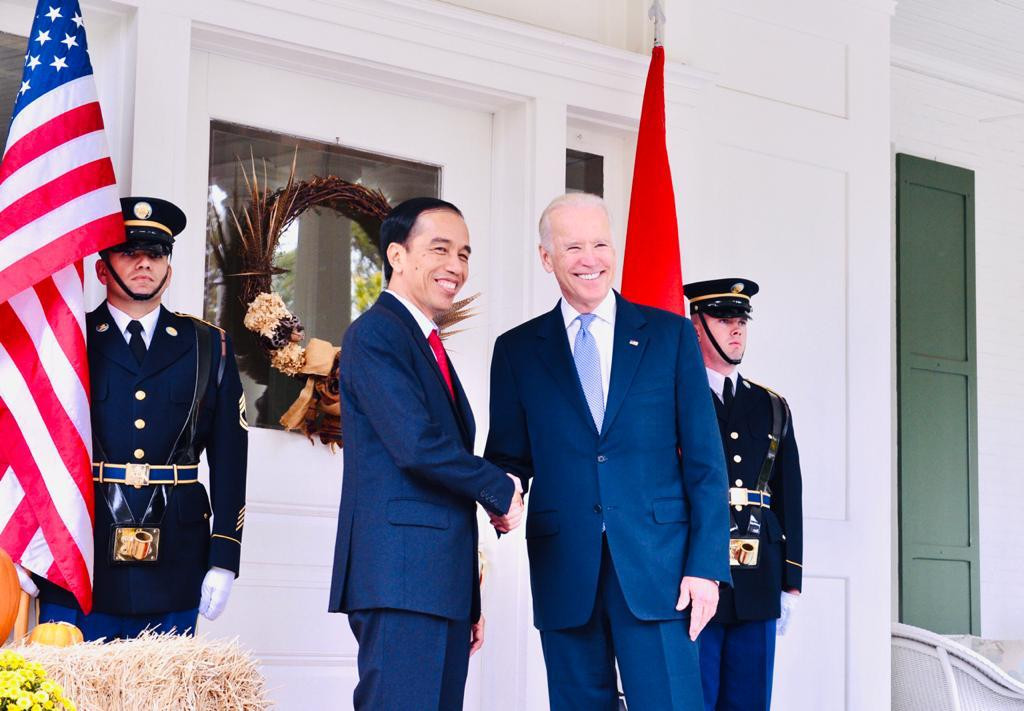 Singapore
Singapore, as the largest US trading partner in Southeast Asia, hoped to enhance bilateral relations with Biden's administration.
"Singapore looks forward to working with you and your Administration to deepen the partnership between our two countries, enhance the US' role in Asia-Pacific, and overcome COVID-19. You can count on Singapore to remain a friend and partner" said Prime Minister Lee Hsien Loong in a statement.
Lee said with his long history and deep experience as a former US Vice President Biden is well-placed to lead his country through the challenges ahead.
Conclusion
I believe that ASEAN will benefit from Mr. Biden's presidency, even if certain policies of his will not be welcomed. Despite some uncertainty as to whether certain policies will result in a positive or adverse effect on the ASEAN economy, we can expect Mr. Biden's administration to be more stable than Trump's.
The change from Trump's haphazard and unpredictable decision-making style to a president whose decisions are likely more aligned with other government branches should lead to more market stability. This increase in certainty and stability should be positive for global stock markets. Over time, if Mr. Biden's economic strategy proves to be effective and sustainable, the US should have a positive ripple effect on the world economy across the globe.
References
https://www.thestar.com.my/business/business-news/2020/11/02/impact-of-us-election-on-asian-economies
https://www.businesschina.org.sg/en/for-businesses/2020-us-presidential-election-special-the-future-of-us-china-relations-and-its-impact-on-asean/
https://thediplomat.com/2020/11/what-would-a-biden-administration-mean-for-southeast-asia/
https://www.bangkokpost.com/opinion/opinion/1981503/biden-win-a-boon-or-bane-for-thailand-
https://www.nst.com.my/business/2020/11/639474/bidens-victory-46th-us-president-boon-asean-countries
https://www.bangkokpost.com/business/2020503/what-happens-now-the-rcep-trade-deal-has-been-signed-
https://asia.nikkei.com/Politics/US-elections-2020/Three-ways-Biden-will-immediately-shift-US-policy-on-Asia
https://www.scmp.com/comment/opinion/article/3109229/why-biden-presidency-and-divided-congress-will-boost-asian-stock
https://www.aa.com.tr/en/americas/asian-leaders-congratulate-biden-on-us-election-win/2035942#
https://sea.mashable.com/culture/13158/heres-what-southeast-asian-leaders-think-of-joe-bidens-us-election-win
https://www.straitstimes.com/asia/singapore-leaders-congratulate-biden-and-harris